Are your treatment plans impossibly complicated and time consuming?
The KENNEDY APPROACH TO PSYCHIATRIC TREATMENT PLANNING is a simple, but effective treatment planning method that is presented in FUNDAMENTALS OF PSYCHIATRIC TREATMENT PLANNING, SECOND EDITION.
Your plans easily flow out of psychiatry's seven "Universal Functional Domains" which are the basis for the Kennedy Axis V:
1) Psychological Impairment
2) Social Skills
3) Violence
4) ADL-Occupational Skills
5) Substance Abuse
6) Medical Impairment
7) Ancillary Impairment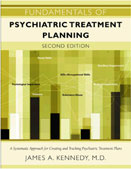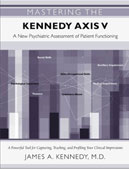 This multi-disciplinary approach is based on the Kennedy Axis V questionnaire which organizes psychiatric problems using the "Universal Functional Domains".
The Kennedy Axis V Can Be Used to Calculate a GAF, GAF Equivalent (A True Global Assessment) and a Dangerousness Level, as well as Generate Clinical Profiles of Your Patients.